Noah Messomo is an acclaimed master of the Beti Balafon (from Cameroon). He: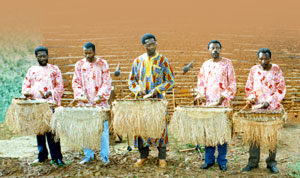 plays the music

designs and makes the instruments

carried out academic research into the forms and functions of the tradition

created a band called Mendjang M'ekum Adjab

designed the first balafon orchestra for churches in Cameroon in the early 1960s

worked as an Ethnomusicologist at the Ministry for Higher Education in Cameroon

won the National Award for Traditional Music in Cameroon ("Nuit des Epis", 1989)
Click Here to hear a sample of Balafon music. Click Here to visit our CDs page where you can download the complete track, free, and purchase Noah's CD of authentic African balafon music.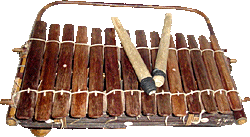 The balafons (Mendzang), traditional xylophones of the Beti people (Cameroon, West Africa) are made of wooden keys with natural gourds as resonators. The balafon ensemble usually consists of 4 to 6 balafons, each having different individual temperaments and functional names.
Balafon music is soft and soothing, creating a peaceful atmosphere for relaxation and meditation. It can also be vibrant and dynamic for big community celebrations. The music reflects the rhythmic and melodic patterns of the Beti language, it is often accompanied by songs.
Further information is contained in the booklet which accompanies the Balafon CD Volume 1.
Tuition and Group Workshops for adults

Concerts (music and songs)

Lectures or Talks with Demonstrations

Instruments & CDs for sale

Mendjang M'ekum Adjab ensemble on special request